International Digital Security Forum Vienna – IDSF22
31st May – 2nd June 2022, MuseumsQuartier Vienna & Livestream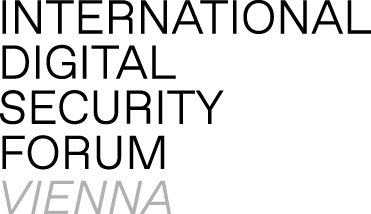 Secure digitalisation for a safe,
green and sustainable future.
International Digital Security Forum (IDSF) Vienna 2022
The digitalisation of our society is increasing with overwhelming speed. This rapid advancement is imposing substantial requirements to all stakeholders to shape digitalisation and manage both technology development as well as its proper use. Likewise, this rapid advancement and digitalization must be an essential contribution for addressing substantial societal challenges including environment and climate change, circular economy, global transport and production (industry 4.0), secure and safe living together in cities (smart cities), health care, and many more.
Beside the innovative power of digitalisation, we must consider the fragile system which we build in terms of their reliability and safety. The pandemic has already shown how dependent we are as a society on digital technologies. If we, as leaders of digitalization, do not address the emerging challenges, we could potentially release technical systems that could adversely impact large areas of our lives and at the same time provide new tools and attack surfaces for criminal actors.
It is essential to establish research initiatives to build recognition and understanding of the new challenges, including the threats associated with rapid digitalization and new technology integration. It is only through this understanding that suitable countermeasures can be developed and deployed. An essential element of digitalization initiatives is to foster effective dialogs and cooperation between scientists, research, industry, government, and public representatives which are building the general conditions for use of new technologies. We must find mechanisms to increase the robustness of our society based on our digital backbone.
The AIT Austrian Institute of Technology is happy to announce the 2nd International Digital Security Forum (IDSF) to be held from 31. May – 02. June 2022 as a hybrid event in Vienna, Austria. Organized by AIT in partnership with the Austrian Security and Defence Industries Group of the Austrian Federal Economic Chamber and with the support of the Austrian Federal Chancellery, the Federal Ministry of Foreign Affairs, the Federal Ministry of Interior, the Federal Ministry of Defence, the Federal Ministry for Climate Action, Environment, Energy, Mobility, Innovation and Technology, the Federal Ministry for Digital and Economic Affairsand the Federal Ministry of Agriculture, Regions and Tourism, responsible of the Austrian Security Research programme KIRAS, the Kuratorium Sicheres Österreich (KSÖ) as well as in cooperation with international partner organizations, IDSF will dedicate this week to bring together international and national leadership and stakeholders for information exchange and to foster collaboration and build partnership in the context of this year's conference motto "Secure digitalisation for a safe, green and sustainable future."