Building Security Features like a Pro
Develop your own security products with a software development kit from IKARUS!
The IKARUS scan.engine is one of the world's best carrier grade scan engines and is fully supported and continually developed by IKARUS. It combats all kinds of cyber threats and malware with a range of defence technologies that work at multiple levels to locate, extract, analyse and eliminate viruses, weak points and exploits in virtually all filesystems, archives, and communication channels. You can integrate IKARUS scan.engine into your existing products, or use it to develop your own security products: the possibilities are endless.
Major advantages
Platform independence
Flexible data analysis module for diverse communication methods
Multi-level heuristics and sandbox analysis techniques
Resource optimisation → top performance
Scan your files for infections on any operating system, simple and quick – activate the command line interface, perform a scan on the requested directory and receive the results.
The results can also be processed further if necessary, e.g. automatic delete could be initiated. With the IKARUS cmd.scan you can also create your own Live rescue CDs. The possibilities are endless, there are no limits.
Scan folders
Set maximum file size (default value: 64 MB)
Turn scan of subfolders on/off
Exclude archives from the scan
Set maximum scan time for files and archives
Create summary of an archive scan
Display the program-, engine-, and virus database version information
Display additional scan information (signature type, path of the infected data)
Deactivate scan for ad- and spyware
Provided updater updates all binaries and databases
Control the web server used for updates
Possibility to set a proxy for updates
IKARUS scan.server scans all files during upload on your servers and checks them for malicious content with help from the integrated, award-winning IKARUS scan.engine. The service discovers both known and emerging malware and allows you to make them harmless before they reach your server. You receive the scan results from IKARUS scan.server as an XML file and you can continue processing with all script languages.
Scanning of files during upload over web services
Protection from malware of your server environments
Excellent detection rates by using the award-winning, integrated IKARUS T3.scan.engine
Results are displayed as XML file to the request with following content:

VDB version
Engine version
File name
Status: "clean" or "infected"
Signature name (e.g.: EICAR)

Varied usage possibilities due to the unlimited compatibility
Regular and automatic updates for protection from the newest threats
Compatible with all script languages
Provides a java library for easy usage
Flexible and adaptable, integrate it in many applications
IKARUS android SDK
Mobile Security Features für Android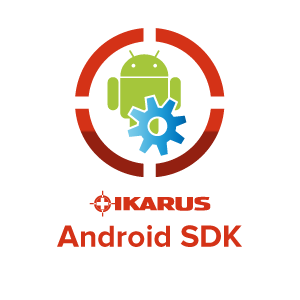 The Android modules from IKARUS allow the integration of targeted protection measures into existing products as well as the programming of one's own security products on a professional basis.
IKARUS malware.detection SDK
IKARUS theft.protection SDK
IKAURS privacy.control SDK
IKARUS sms.blacklist SDK
Immediately available – If you would like to try our solutions, please contact us at:

email: sales@ikarus.at
phone: +43 (0) 1 58995-500