Detect, understand and stop cyber-attacks directly at the endpoint
Cybereason Endpoint Security
Cybereason's Endpoint Security solution gives you the tools and capabilities to not only detect and defend against attacks––actively or automatically––but also to track the attackers: Protect your networks, clean up your entire systems, close all gaps and strengthen your cyber resilience.
With IKARUS as your system integrator, you also stay on track with your data protection requirements: Use the solutions optionally from the cloud from the IKARUS data centre in Austria (EU) or on premise.
Cybereason Professional: globally leading solution for EDR and MDR functionalities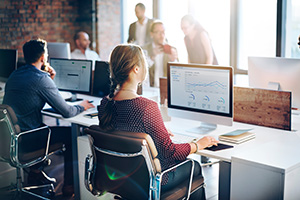 Cybereason Professional reduces the time required to investigate and defend against cyber-attacks by automating remediation or providing one-click remote access.
The solution requires no special prior knowledge. It enables IT teams without security expertise to achieve professional results, while security experts also benefit from the tools. Every team member is empowered to quickly understand the scope and impact of threats and take immediate action.
EDR capabilities consolidate all information about each security incident and empower IT teams with contextualised data to stop attacks immediately.
Next-generation antivirus capabilities also detect entirely new malware, zero-day exploits, fileless attacks and provide optimal protection even against ransomware attacks.
Endpoint controls help you meet security and compliance requirements, restrict access to data and encrypt it.
The optional MDR (Managed Defense and Response) add-on allows you to outsource endpoint protection with SOC functionalities.
Product AddOn: Cybereason MDR (Managed Detection and Response)
Cyber prevention, detection and response as a service: threats are detected and averted without burdening own resources.
Advantages of cybereason technology
Immediate ability to act and react in case of security incidents
Additional security layer to protect against ransomware
Minimal impact on endpoints
Increased chances to detect attacks or unwanted behaviour at an early stage
Advantages with IKARUS as system integrator
Local data processing in the IKARUS data centre in Austria (EU) or on-premise
Technical and practical expertise in cyber defence, incident response, threat hunting
Strong partnership for the highest quality of customer service
Smart system integration and local support
Contact us now for a non-binding consultation or your customised offer!
Phone: +43 1 58995-500                                          E-mail: sales@ikarus.at